2022 Bozeman Real Estate Market Report
Posted by Erica Hart on Tuesday, January 24, 2023 at 10:40:55 AM
By Erica Hart / January 24, 2023
Comment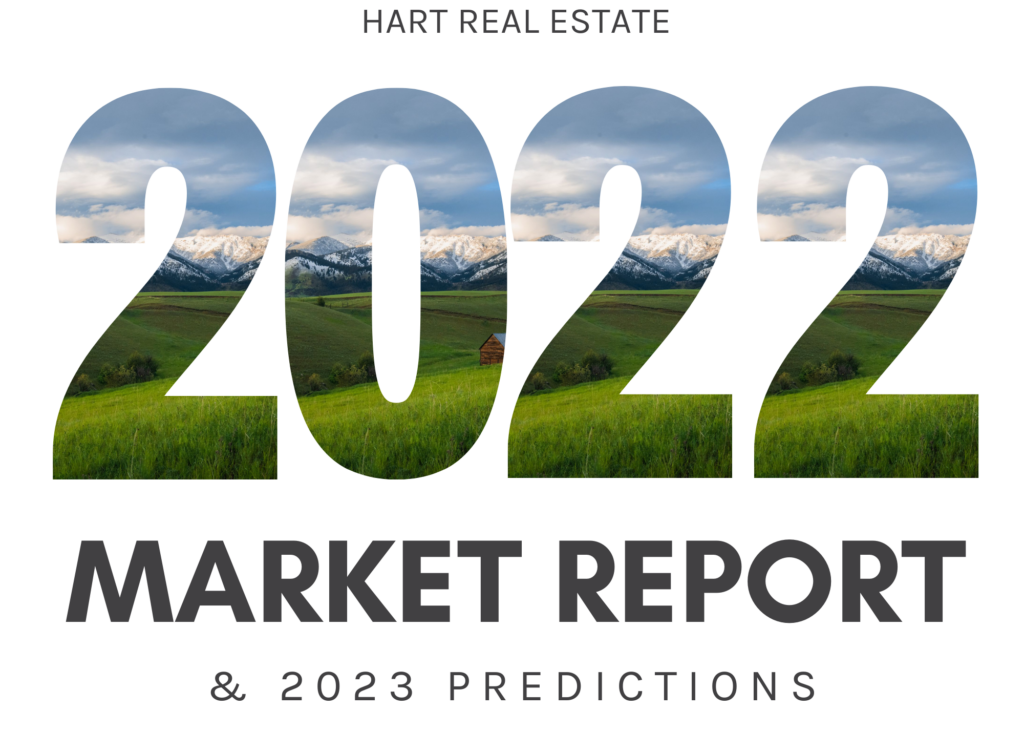 With the Fed's help, we said goodbye to the frenetic bidding wars after the first quarter of 2022. This was a welcome market shift for buyers, who had to outbid and sacrifice condition issues to win a property. The price to pay……higher interest rates and higher payments for buyers obtaining financing. Today, the interest rate has more than doubled. Therefore, the affordability ceiling, already out of reach for many in our valley, got further out of reach. From a seller's perspective, however, it was a reality check that the party was over (at least for now).
With interest rates further impacting home affordability in the Gallatin Valley, insecurity in the stock markets and less investor activity, our local real estate market turned quickly this summer. Some segments of the market were impacted more than others. And, overall, the number of sales were down over 30%. However, most inventory levels in the valley are still low. Therefore, what should we expect in 2023? We'll do our best to share our experience and predictions.
Residential Sales in Bozeman
Inside Bozeman city limits, sales of single family homes were down 36% from last year. However, the median sale's price still increased to $860,000 and inventory remained historically low.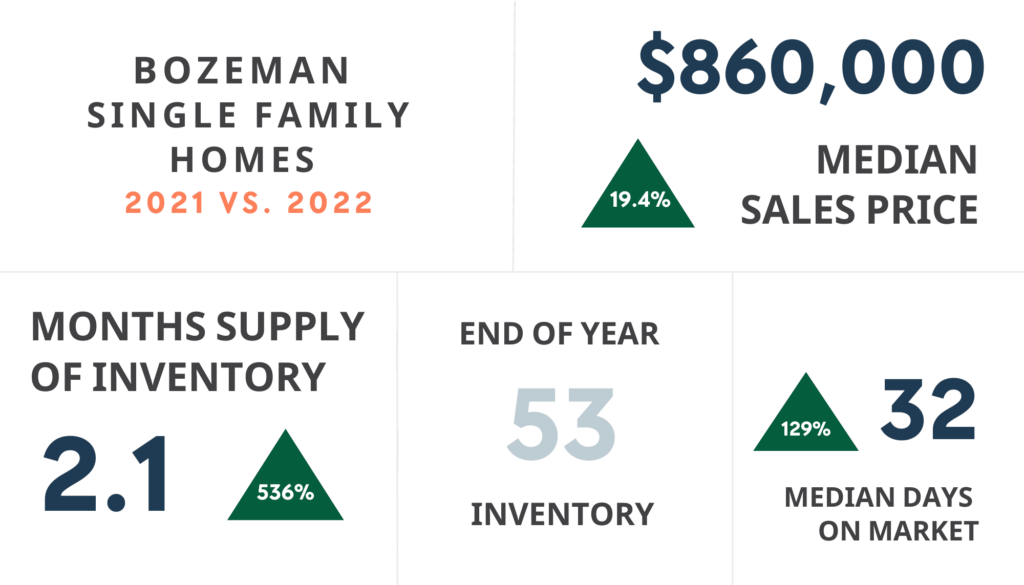 Buyers dug in their heels, as can be seen from the historically wide delta in list price to sale's price ratios.
Rural Bozeman
In the more rural areas just outside Bozeman city limits, the median sales price was $942,500 and closed sales were only down 9.7% from this time last year. With more inventory in this segment of the market, we saw better sales activity later in the year. In addition, for higher end properties (over $2,000,000), we actually saw more sales in 2022 (57) than 2021 (52). This makes sense because buyers who paid cash or had more financial ability to shift assets had more inventory to choose from.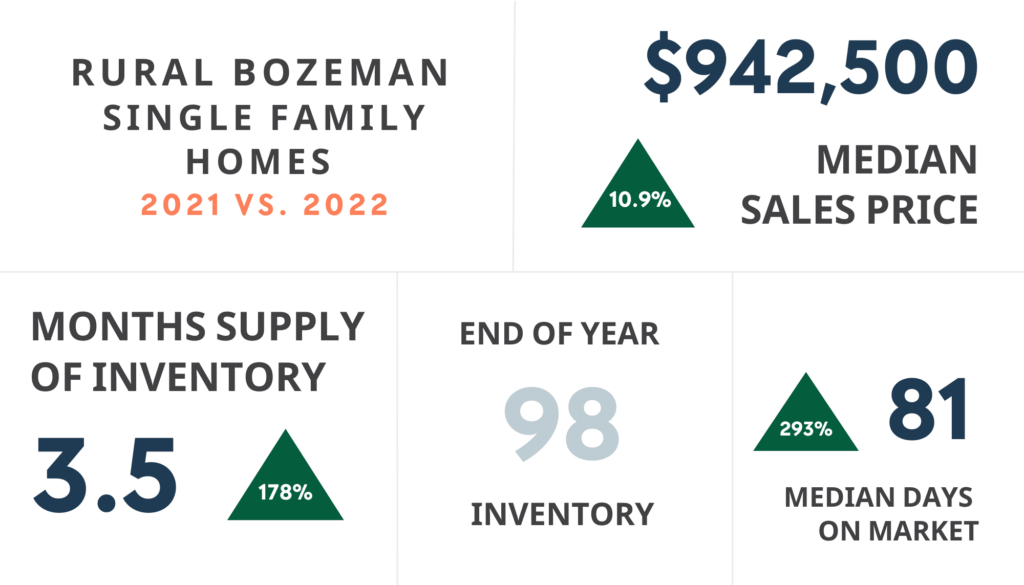 Condo and townhome Sales in Bozeman
The condo market in Bozeman fared the worst, with a 29% drop in median sales price. Inventory steadily increased until just recently, with overall condo and townhome inventory up a whopping 306% over December, 2021. Many condos and townhomes are at the entry level for our market. Many first time buyers were simply priced out of the market as interest rates rose. As a result, inventory sat and sellers had to concede price to get their properties sold.
Belgrade
Belgrade single family home sales were similarly impacted, with a 17% drop in median sales price, 69% drop in closed sales and inventory increases of 965% over last year. With a median sales price of $485,000, this dramatic market shift occurred because these entry level buyers were more negatively impacted by the interest rate hikes. In addition, much of the new home construction is still happening in Belgrade, which helps to balance the market there. Currently, there are 4.8 months of single family homes for sale in Belgrade. A balanced market is 6 months of inventory.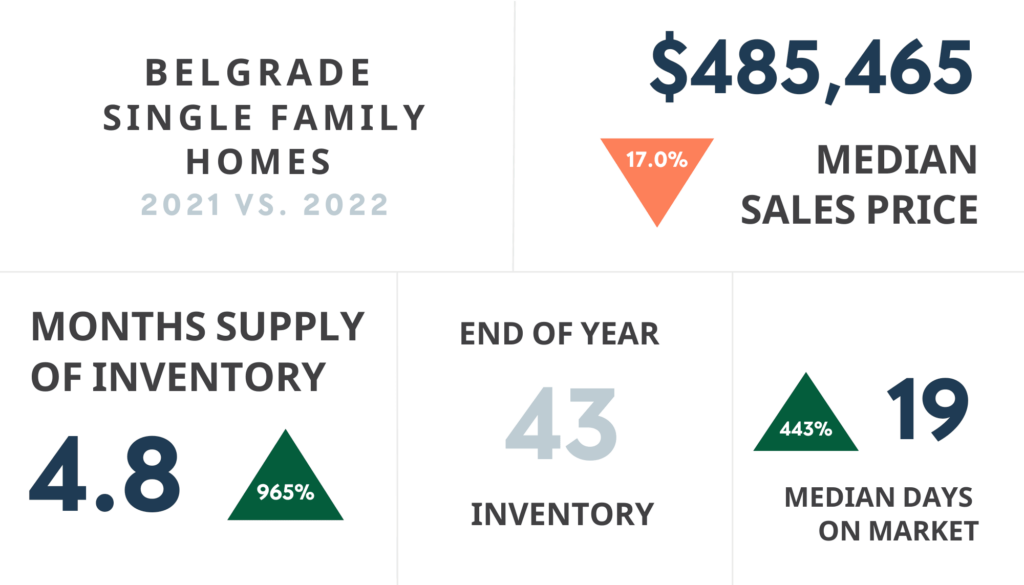 Interestingly, Belgrade condo and townhome sales were strong, with a median sales price up 13% over this time last year. At $482,500, the median sales price is barely less than for single family homes. This is likely due to the number of sales of newer townhomes compared to small and older single family homes. This segment of the market currently has only 2.1 months of inventory.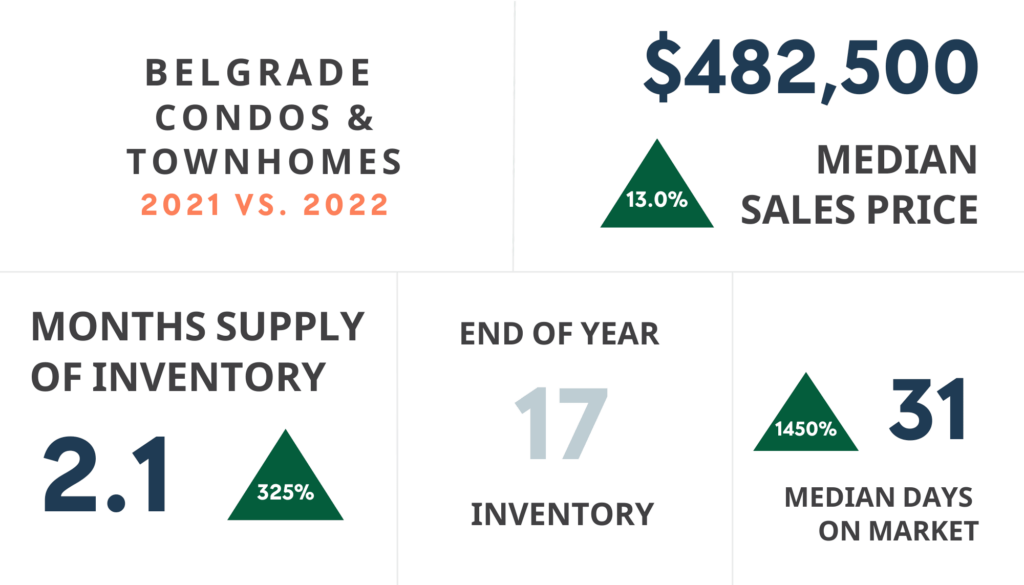 Gallatin Valley Land Sales
The most dramatic shift we saw in 2022 was in land sales. Land inventory has increased 1,395% over last year, which had a record low inventory, following unbelievable sales post COVID. Currently, we have over 20 months of supply, signaling a buyer's market for land.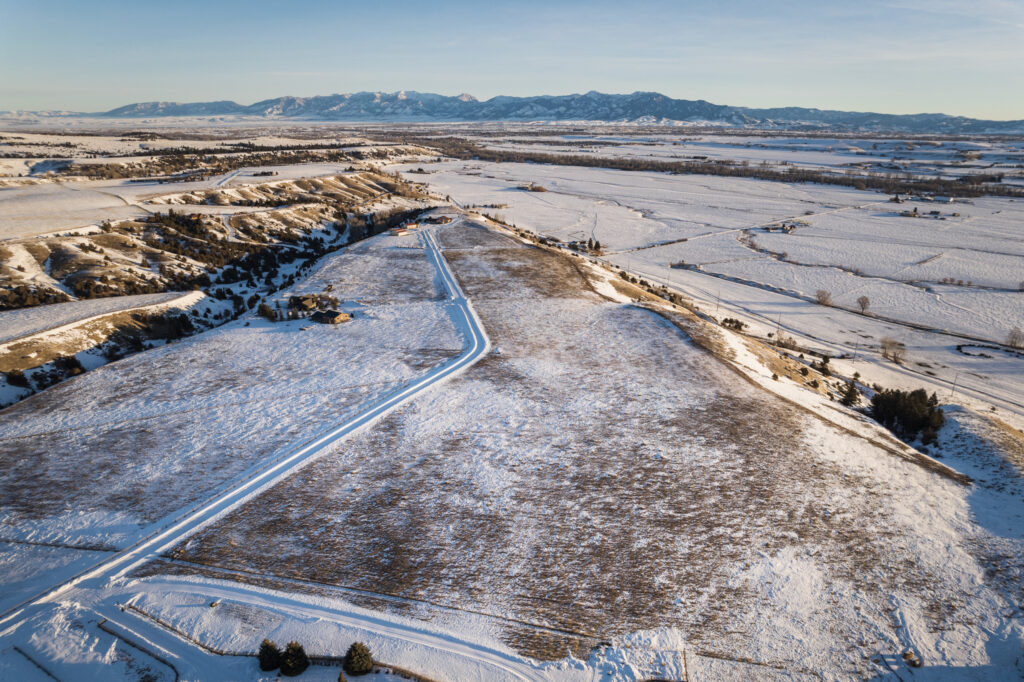 ---
WHAT DOES ALL OF THIS MEAN FOR 2023? And, where do we stand on the state of the market in the Gallatin Valley? We are predicting a strong 2023, especially in the second half of the year. Why? Here are several reasons:
Buyers are getting used to the idea that rates are not going back to 3%.
They also realize that once inflation is under control, the interest rates will stabilize with the markets. We heard one lender say recently…"Marry your home and date your interest rate." If you are a buyer, use this opportunity to take advantage of some inventory and manage the buying process with wise counsel and strong negotiations. If you are planning to stay in your home for more than 3 years, we predict you will fare very well if you buy the right property now. If you are a seller, the conversation is a little more complex depending on whether you intend to purchase a replacement property. But, remember sellers, you have enjoyed some of the best appreciation in history the last 3 years, even with the 2022 market shift.
Inventory is still low in most segments of our market.
While more sellers may come out of the woodwork as the market stabilizes, this only bodes well for buyers. New construction remains historically low and millennials ( the largest population in our country) continue to enter the market. Construction disruptions and labor shortages and timelines for development, especially in Bozeman, may continue to negatively impact our inventory levels. "Affordable" new inventory in Bozeman is hard to come by. But, Belgrade continues to expand housing supply. And, we continue to see more migration to smaller communities like Three Forks, Manhattan and beyond.
A couple of market segments to watch are land and the higher end market ($2,000,000+). Though sales in the higher end market were still strong in 2022, we currently have a year of inventory. With more to choose from, these buyers will have some negotiating power.
Land, especially higher end land, is flush with inventory, a dramatic shift in the buyer's favor in 2023.
Recessions don't necessarily negatively impact real estate values.
Most people refer to the Great Recession when they think about the negative impacts a recession can have on real estate values. The Great Recession was driven by the subprime lending crisis and shenanigans in the financial markets. We are not seeing this kind of activity in the market. Even if we slip into a recession, the reality is that in 3 of the last 5 recessions, real estate prices actually increased. The bottom line — we do not see a recession having a significant negative effect on the Bozeman area real estate market.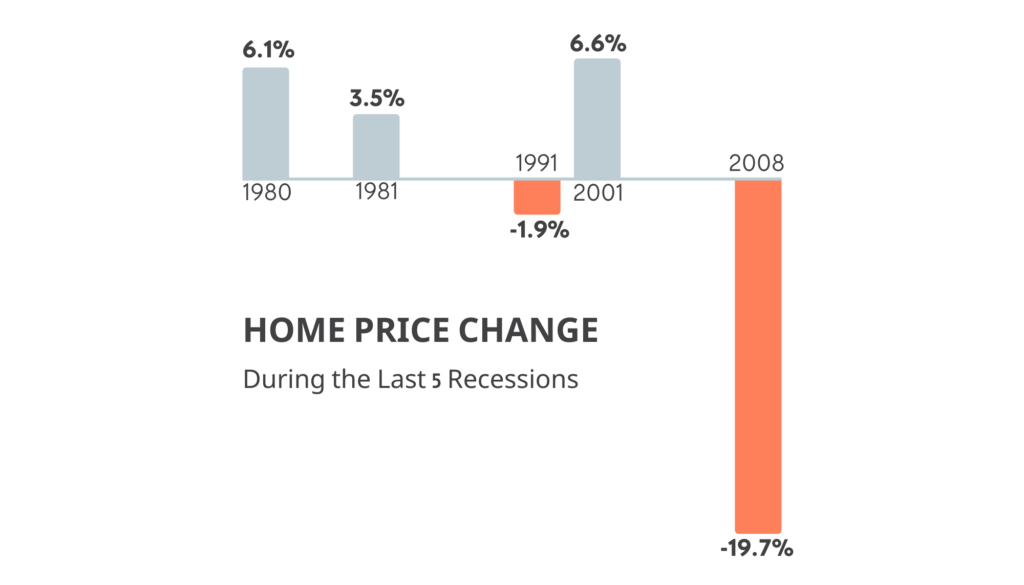 In conclusion, home prices increased at an alarming rate the last two years. We have seen some corrections in 2022. And we believe the worst is behind us. Due to low inventory, we anticipate most segments of the market will experience modest price increases through 2023, with a more stable market and some inventory to choose from. The exceptions are higher end land and home sales, which have shifted decidedly to a buyer's market.
Sources: CoreLogic, Big Sky MLS, Domus Analytics
---
If you have worked with our team, you already know how important the data is to our advice and counsel. So, we are here to serve you or your referrals. If you have not worked with us, we would be honored to help you navigate this market. With over 85 years of combined experience, our team has successfully guided more than 800 buyers and sellers. We work in a unique team brokerage to customize the experience for each buyer and seller.
---