Generational Effects on Housing Market Trends
Posted by Nathan Hart on Friday, January 19, 2018 at 11:40:57 AM
By Nathan Hart / January 19, 2018
Comment
Inventory of homes for sale is tight and as a result, months of supply is low. With so many homes not remaining on the market for long, sellers have the advantage over buyers in that they have a much higher chance of obtaining top dollar for their home.  While this information isn't new, you may be surprised to learn that generational trends play a huge role in today's housing market, particularly amongst the buyer population.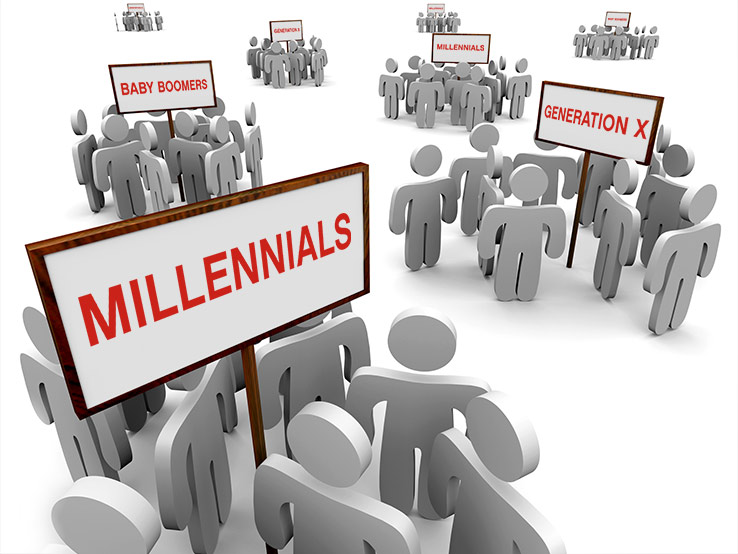 Source: six-degrees.com
Who's Buying the Most?
Different generations have different home buying tendencies and patterns. In 2016, Millennials/Generation Y (ages 36 and younger) represented 35% of all homebuyers across all other generations. This year, that number is down to 34%— still the largest share of home buyers. Of these buyers, 66% were also first-time home buyers. Generation X (ages 37-51) represented 28%, Younger Baby Boomers (ages 52-61) represented 16%, Older Baby Boomers (ages 62-70) represented 14%, and the Silent Generation (71-91) represented 8%.
Of all Gen Y buyers, 46% had a median student loan balance of $25,000, and 23% agreed that saving for a down payment was the most difficult step in the home buying process. It makes sense that this loan balance would decrease over time as the buyer ages, due to increases in income— however, 27% of buyers between the ages of 37 and 51 had the highest median loan balance of $30,000. This is likely due to accumulation of their children's college loans on top of their own remaining balances.
Why Is Gen Y Dominating the Buyer's Market?
Despite low inventory, rising house prices, and student loan debt, why does Gen Y represent the largest share of home buyers? For starters, rent prices are on the rise too— when taking into consideration that monthly rent payments can increase over time and mortgage payments are fixed, many Gen Yers are leaning towards home ownership. Many are also choosing a mortgage over renting because of their dogs— 33% of Gen Y home buyers stated their primary reason for purchasing a home was to have a yard and plenty of room for their dog, while 25% stated it was because of marriage and 19% stated that it was the birth of a child. Simply put, the desire to own a home of their own, the desire for a larger home, and a change in their family situation were the top 3 reasons amongst all Gen Yers for purchasing a home.
Looking Towards 2018
Although student debt and rising house prices may present a challenge for some, many Gen Yers are putting these factors aside and continuing to contribute to the housing market in a pretty significant way. As the days remaining before 2018 starts are limited, here's what the Professional Warranty Service Corporation predicts for generational home trends for the new year: Gen Yers will represent 45% of all home loans while Baby Boomers represent 30%, and overall home sales will increase by 8%, or about 670,000 units. So far, it looks like Gen Y is on track to dominate the market for another year!