Midtown Bozeman is Underway
Posted by Nathan Hart on Wednesday, June 26, 2019 at 12:53 PM
By Nathan Hart / June 26, 2019
Comment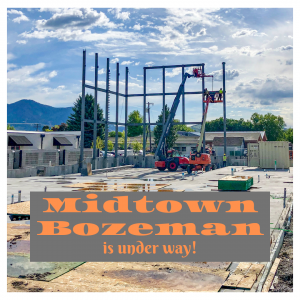 The beautiful and thriving city of Bozeman sits in the Gallatin Valley. While it's never been a stranger to growth, Bozeman's Midtown will take the expanding city to new heights. Bozeman is the 4th largest city in Montana and has a population of nearly 50,000 people. With steady growth, Bozeman has seen an increasing demand for both housing and businesses. While there are many plans and proposals well under way that will see Bozeman continue rapidly expanding and growing. One plan in particular looks to transform 7th Avenue into Midtown Bozeman.
The stretch of road near Bozeman's city center was officially named Midtown in 2015. Evidence of the project can already be seen in the likes of Midtown Tavern and the complete remodel of run-down Rainbow Hotel, reopened as the RSVP Motel. Over the next few years Bozeman will really start to see Midtown take shape. Directly next door to the new RSVP Motel sits the recently finished foundation for what will be The Elm. Well under way, the brand new state of the art concert venue will hold up to 1,500 people and is expected to host around 80 concerts per year, amongst many other functions. Just across the street, the new LBP (Last Best Place) brewery with 2 levels of apartments above it and a roof top gathering area are in the plans. A couple of blocks north, the Aspen Crossing project is currently entering the beginning stages. When complete the 68,000 sq. ft. building will include retail, restaurant and event space on the first floor, Offices on the second floor and 25 condos on the third floor. The Aspen Crossing building is set to take the place of Mixer's, Fiesta Mexicana, Mack's and Max Barber Shop and the Sunset Mobile Home Park.
So as you can see, Midtown Bozeman gives us plenty to look forward to and to get excited about. The Elm concert venue is looking to open as early as winter 2020 and things will only pick up from there. One project that is part of Midtown Bozeman, looks to make an impact on the issue of affordable housing in Bozeman and is expected to be complete by 2021. The 9Ten project will feature 97 units of housing considered affordable for those making a median income in Bozeman. This is the largest development in Midtown and will consist of 2 four-story buildings. These are only a few of the current plans for Midtown Bozeman, for more information and detailed plans please visit www.midtownbozeman.org.
In summary, there are a lot of big projects currently in the works that will expand and build-up the city of Bozeman. Midtown is with out a doubt one giant slice of that pie but one thing we know for sure, is the city of Bozeman will not be slowing its growing anytime soon.